Family Nurse Practitioner
Heather Leone, FNP
Heather R Leone is a certified Family Nurse Practitioner who helps patients of all ages with their chronic pain and other needs. Before starting at Morningstar Neuropathy and Pain Treatment Center, Heather worked several years as a Trauma Surgical Nurse at Mercy Hospital St. Louis with a Bachelors of Science in Nursing from Chamberlain College of Nursing, and various pain clinics as a Family Nurse Practitioner with a Master of Science in Nursing from Maryville University. Heather is available at our St. Peters, MO location to help with managing and treating your symptoms.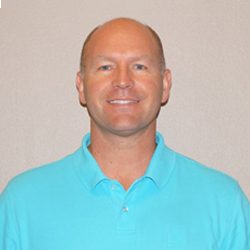 Clinic Director
Andrew Morningstar, DC
Dr. Morningstar has been helping people not only get pain relief fast but transform their lives with the power of pain management, since 1998 but also practices the cutting-edge therapies of regenerative medicine. With two decades of experience to his name, Dr. Morningstar is committed to providing each of his patients with the most advanced natural healthcare technology available.
A graduate of the Logan College of Chiropractic and an athlete, Dr. Andrew has been interested in health and wellbeing for as long as he can remember. Driven by a passion to help people realize their optimal health potential, it comes as no surprise that Dr. Andrew chose pain treatment as his career of choice.
Dr. Andrew is not just about facilitating adjustments in patients. He champions a broad-based approach to patient care, which incorporates the whole person, not just the problem. From nutritional and dietary support to advice on how to eliminate environmental toxins, Dr. Andrew provides each of his patients with a comprehensive, all-natural care-plan. As an athlete himself, Dr. Andrew aims to help his patients realize the amazing health benefits that can be reaped from a simple and achievable approach to exercise.
A father of three daughters, Dr. Andrew is a committed family man. They are a very active family and when not spending quality time with his wife and girls, Dr. Andrew enjoys boating, fishing, and golfing. The Morningstars are a very community-orientated family, and take huge pride in their active involvement with the local church.
Dr. Andrew would love you to experience for yourself, the transformative power of pain treatment!
"If you're eating the right foods, exercising, and feeling great, why stop? Pain treatment is just the same. To fully reap the benefits, you need to be committed. Our mission is to change the face of healthcare through teaching and promoting the five essentials of maximized living. We don't just focus on pain, of course, we want to get people out of pain as soon as possible but pain is only the tip of the iceberg.

There is nothing more satisfying than seeing a patient get that light-bulb "aha" moment when they realize the transformative power that corrective pain treatment can offer.

My passion lies in helping people realize their God-given health potential ensuring that my patients don't just get well, but that they stay well. I want to see them continually reaching their healthcare goals, on a long-term basis. We aim to create a culture of healthier and more knowledgeable patients."

- Dr. Andrew Morningstar